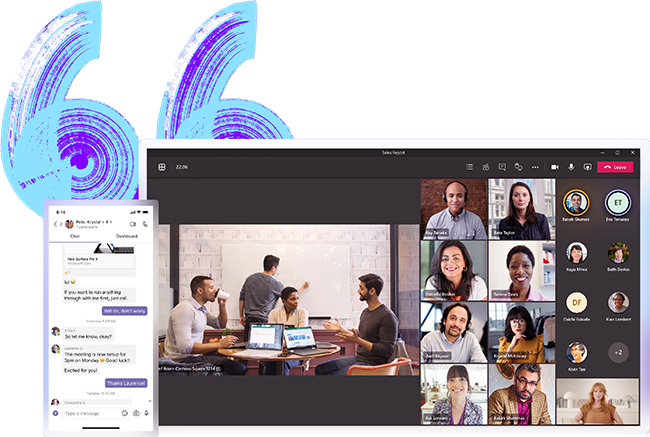 Power your business productivity with Teams Calling
Discover how to turn regular business phone calls into cost-efficient productivity hacks through calling on Microsoft Teams.
Starting from $9.99/user/month* (w 8% GST)
Bring Business Collaboration to the Next Level

Streamline IT investments
Retire on-prem PBX systems and leverage on existing M365 investments for an integrated user experience

Stay connected working from anywhere with your own dedicated DDI number

Call from any softphone-enabled PC, tablet or smartphone

Cost-efficient and quality local and overseas calls on a MyRepublic line
Discover rich features enabled by Teams Calling
Contact Centre Integration and more
Potential benefits of calling on
Microsoft Teams for SMB customers

Return Of Investment (ROI)
146%

Benefits Present Value (PV)
$304k

Nett Present Value (NPV)
$180k Total Cost of Ownership (TCO)
82%

*Data extracted from Forrester TEI "The Total Economic Impact™ Of Microsoft Teams Phone Microsoft Teams Phone For SMB Customers"


Trusted Managed Solution Provider
MyRepublic business portfolio covers the needs of a modern business, from networking, voice, cybersecurity, office productivity to being a trusted IT services.
Security at Every Critical Step
MyRepublic will work with you to ensure that your cloud environments are secured by design and are compliant to the industry's regulations.
MyRepublic's cloud experts help you understand the Total Cost of Ownership(TCO) of running your infrastructure and optimizes for cost savings on the cloud.
Technology Training and Support
MyRepublic will work with your IT team along the cloud journey to ensure that your team are well equipped to understand the cloud and to get the best-in-class support.
Watch our webinar with Microsoft on Transforming SME Business Collaboration with Teams Calling
Complete your office setup with our Teams Calling Bundles
24 & 36 Months Contract Options Available
Save up to $31.85/month
from usual retail price
Save up to $36.85/month
from usual retail price
Save up to $57.85/month
from usual retail price
Learn more about Teams Calling.
What is Teams Calling?
Teams Calling is a cloud-based phone system built for businesses. It enables users to make, receive, and transfer calls to and from landlines and mobile phones on the public switched telephone network (PSTN) within Microsoft Teams.
Who is Teams Calling intended for?
It's designed for businesses using Microsoft 365 that are seeking a modern phone system. Teams Calling can be added onto Microsoft 365 subscriptions that include Microsoft Teams: Microsoft 365 Business Basic, Business Standard, Business Premium (F1, F3, E3, A3) and Office 365 (F1, F3, E1, E3, A1, A3).
What's included in Teams Calling?
Teams Calling includes a DDI (phone number), SIP trunking to MyRepublic SBC (a dial tone), unlimited free local incoming calls and low-cost international calls, with the option to setup/configure of your Microsoft Teams phone system features by our team of experts.
Is a MyRepublic business internet connection required in order to subscribe to Teams Calling?
Teams Calling does not require a MyRepublic business internet connection, however you will need to use a new MyRepublic L6 phone number, or port in an existing number from your current provider.
Can I use my existing phone numbers?
Yes, you can transfer your phone numbers from your current service provider to MyRepublic.
Can I subscribe to Teams calling if I already have an existing Microsoft license service provider?
Yes, subscribing to Teams Calling does not require you to sign new Microsoft Office licenses with MyRepublic. Additionally, we support the novation or purchase of additional Microsoft Office licenses, which allows you to consolidate your spending into a single bill with MyRepublic as your end-to-end managed services partner.
The Modern Unified Communication Solution to empower your business. Request for a free consultation today with our experts.
Let's see how we can help you.
Get in touch with our connectivity experts.
For sales enquiries, drop us a call at +65 6430 0887 (available weekdays 9am – 6pm). Alternatively, fill out the contact form below and we'll respond within two business days.