Incident response with Blackpanda
In our time of technology dependence, organisations of all sizes have become a potential target for cyber attacks. Everyone needs to be prepared for a cyber incident.
Incident response is the process of containing and eradicating a cyber attack, minimising damage caused by the breach and reducing recovery time and associated costs.

One-time Cyber Incident Response Activation Credit

24/7 Incident Response Support

Blacklight: Attack Surface Management (ASM)

Unlimited Access to Cyber Risk e-Resources
How does MyRepublic's Cyber incident Response work

if my business is hacked?
Investigation procedures in compliance to industry best practices (SANS, NIST, ISO). Cyber attack impact on SMEs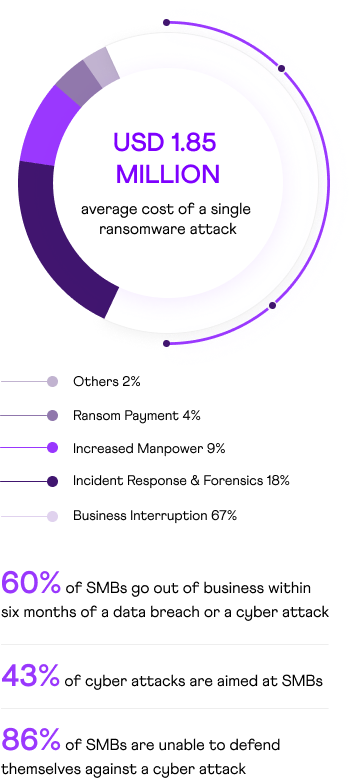 Why MyRepublic x Blackpanda

Highly trained cyber security incident response specialists on the ground throughout APAC, with the local linguistic and cultural understanding necessary to manage a crisis.

Our responders are trained and specialised to deal with ransomware response and negotiation, business email compromise, data breaches, and financial or digital asset tracking.

We are an elite cadre of cyber risk and security experts, with a background in the military special forces, intelligence, forensics, and law enforcement.
Let's get you started on your Cyber Incident Response journey.
What are the qualifying requirements for IR-1 clients?
IR-1 is designed for small businesses who are cyber security vigilant, but faced with limited resources and knowledge on how to manage a cyber incident. Contact us if you are operating a small business in the Asia Pacific region with less than USD 50 million in annual revenue.
What should I do if I think my organization might be experiencing a cyber incident?
Log on to (platform web address) immediately to report a cyber incident by activating the IR-1 service. Upon receiving the notification, a dedicated incident response manager will be in touch within the following 4 hours to walk-through the best course of action as needed.
What is included in the IR-1 credit?
The IR-1 credit is considered redeemed upon utilization of your activation key, during the subscription period. It will grant you access to our incident response specialists, digital forensics and security professionals, as well as unlimited e-resources on our online platform at no additional cost (applicable to qualified cyber incidents only). Your IR-1 credit includes root cause/scope of breach investigation and incident resolution. The credit does not include restoration of business activities and implementation of extended remediating actions.
What defines a qualified cyber incident?
A cyber incident is defined as such if it includes Basic Web Application Attacks, Denial of Service, System Intrusion, Business Email Compromise, Malware or Ransomware. In addition, a qualified cyber incident must satisfy the following two criteria. Firstly, the compromise date must be later than the registration/renewal of the IR-1 subscription. Secondly, the root cause/cause of incident must be different from any previous incident for which IR-1 has been activated, unless Blackpanda-approved mitigation measures have been implemented.
What if the initial investigation reveals that my activated IR-1 credit is not considered as qualified?
Your IR-1 credit will be considered redeemed upon requesting our incident response services. You may, however, opt to continue digital forensics and incident response services at a preferred rate of USD 350/hr (U.P USD 400/hr).
What's in it for me if IR-1 credit has been used and my company is hit for the second time?
In addition to unlimited access to cyber risk e-resources platform, you can still enjoy all Blackpanda services including incident response and digital forensic services at a preferred rate.
Is my IR-1 credit considered redeemed following a false-positive incident?
Yes, your IR-1 credit will be considered redeemed. When we receive your Incident Response activation request, our multi-disciplinary regional responders are activated and will start to investigate the suspected incident immediately. As such, regardless of whether the investigation reveals the incident is legitimate or is a false positive, your IR-1 credit will be considered redeemed
Do I need to install Endpoint Detection & Response (EDR)/ Endpoint Agent prior to the activation of IR-1?
This is highly recommended. However, it is not mandatory, as EDR/endpoint agents collect historical forensic data that allows our specialists to conclude the preliminary investigation within a shorter time frame. Contact Blackpanda for more information on EDR/Endpoint Installation.
On what condition is IR-1 renewable upon the expiry of subscription tenure?
You can always renew your IR-1 subscription as long as you meet the qualifying requirements.
What other Blackpanda services can complement IR-1 to strengthen my cyber risk profile?
Consider incorporating regular compromise assessments to eradicate vulnerabilities in your systems and conducting tabletop exercises to review the readiness of your team.