The benefits these friends will get? $_$
4 July 2019, Singapore – MyRepublic launched the affectionately dubbed Friends with Benefits referral program today, offering customers new and improved rewards for referring their friends to sign up to MyRepublic broadband.
It Pays to Have (MyRepublic) Friends
With Friends with Benefits both parties benefit: the MyRepublic customer as well as the person that they refer.
New customers who sign up with a valid MyRepublic Customer ID and the Friends with Benefits promo code will enjoy an additional 10% off selected MyRepublic broadband plans.
MyRepublic customers making the referral can earn up to $4 monthly credit for each referral – that's up to $96 over 24 months.
Subscribers can easily share their customer ID and the promo code on social media, forums or instant-messaging to their friends and family, potentially earning up to hundreds of dollars per month. While the 10% discount is available for selected broadband plans, both MyRepublic broadband and mobile customers can refer new subscribers through Friends with Benefits. In other words, every MyRepublic subscriber can promote the MyRepublic love online to earn.
Taking Things to the Next Level
Customers who really spread the love will find themselves richly rewarded. From 6 and 21 referrals, MyRepublic customers will reach a new tier, earning even more credits for each referral: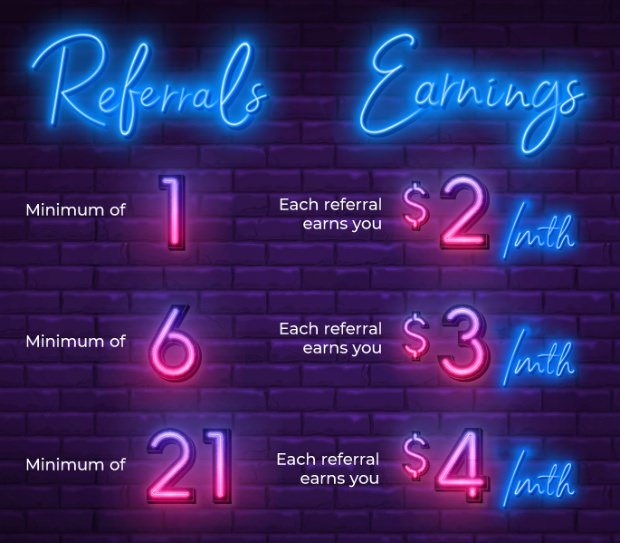 Customers who have earned enough credits to exceed their monthly bills with MyRepublic can use the excess credits to redeem for vouchers.
These tangible and immediate benefits are a stark contrast to traditional loyalty programmes relying on complicated point structures.
"There's no better compliment than having a happy customer recommend us to their friends," said Eugene Yeo, Chief Operating Officer of  MyRepublic, "With this program, we wanted to find an awesome way for our most passionate and valued customers to be rewarded for helping to share the MyRepublic love!"
To find out more about the Friends with Benefits program, visit https://myrepublic.net/sg/fwb