Your partner in Digital Transformation
From powerful yet easy-to-use managed services to enterprise-grade network solutions, MyRepublic provides businesses digital tools that enhance cost-effectiveness, performance, and productivity.

Affordable Plans including Free Installation & Add-Ons
MyRepublic Business Internet plans include free service installation, free Static IP, free voice lines, and free top-of-the-line networking equipment.

Experienced Account Manager for Dedicated Support
Every customer is assigned a dedicated Account Manager with expertise in your relevant industry.

Reliable Service Uptime with our Industry-Best SLA
With some of the best Service Level Agreements (SLAs) in the industry and always-on business customer support, we're committed to keeping your business connected 24/7.
When you sign up for MyRepublic
Business SME Productivity Bundle
Increase your business productivity with reliable internet and crystal clear voice bundle.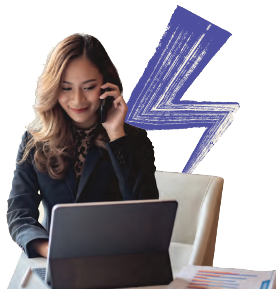 Power your business with MyRepublic SME Productivity Bundles
For more information, please email or call
Terms & Conditions
(1) Availability: The promotional bundle ("Offer") is available for Business Broadband Service subject to the fibre network ("network") coverage, availability of network, service, all relevant resources, access, in-building cabling and tray, and the procurement of all relevant approvals.
(2) Offer Period: This Offer is valid until 31st December 2022 and is subject to change by MyRepublic without notice. The Offer is not valid in conjunction with any other offers.
(3) Minimum Service Term: 24, or 36 month contracts.
(4) Installation: MyRepublic will arrange with you to install the fibre to your premises, a termination point, and install a modem (ONT), and the equipment with their accessories (collectively called CPE") as stated in the bundle on-site during standard working hours (Mon-Fri, 9 am-5 pm, except Public Holidays).
(5) You need to be aware of the minimum system requirements for the CPE MyRepublic provides. You may check with your Account Manager or the manufacturer for more information. MyRepublic will not be held responsible for any connection issues or disruptions arising from the incompatibility of system requirements of the CPE.
(6) TP-Link routers and access points have a limited warranty period of 12 months starting from the Service Commencement date. MyRepublic will provide hardware support only within the warranty period.
(7) Yealink IP phones have a limited warranty period of 12 months from the date of delivery. For hardware issues, you will be required to bring the phone back to the manufacturer.
(8) Premium gifts (such as vouchers or device discount coupons) where applicable are subject to one (1) per Business Broadband signup, available while stocks last. A Redemption Letter to collect the premium will be sent within 30 days after 1st payment of the Service has been made. The premium is not exchangeable for cash. MyRepublic reserves the right to change the premium to another item of similar value at any time without any prior notice.
(9) Cancellation Charges: These are applicable for any withdrawal of application before activation of Service.
(10) Activation: The Service shall be activated within 1 month of order submission. For cases where the lead time for fibre resources is 30 working days and above, service activation must not be later than 2 months from order submission.
(11) End o Contract Term: Promotional subscription charges will be applied during the contract period and will revert to the prevailing list price upon contract expiry.
(12) MyRepublic reserves the right to withdraw this promotional bundle at any time without prior notice MyRepublic's Terms and Conditions at https://myrepublic.net/sg/legal/business-enterprise/ and related service-specific Terms and Conditions before registering and/or using MyRepublic's services. These terms and conditions are deemed incorporated by reference. Use of MyRepublic's services will constitute acceptance of these terms and conditions and any amendments thereto.
(13) Prices listed are inclusive of prevailing Goods and Services Tax (GST). Standard early termination, downgrade penalties, and deactivation fees apply.
Let's see how we can help you.
Get in touch with our connectivity experts
For sales enquiries, drop us a call at +65 6430 0887 (available weekdays 9am – 6pm). Alternatively, fill out the contact form below and we'll respond within two business days.
Trusted Managed Solution Provider
MyRepublic Enterprise business portfolio covers the needs of a modern business, from networking, voice, cybersecurity, office productivity to being a trusted IT services.
Security at Every Critical Step
MyRepublic will work with you to ensure that your cloud environments are secured by design and are compliant to the industry's regulations.
MyRepublic's cloud experts help you understand the Total Cost of Ownership(TCO) of running your infrastructure and optimizes for cost savings on the cloud.
Technology Training and Support
MyRepublic will work with your IT team along the cloud journey to ensure that your team are well equipped to understand the cloud and to get the best-in-class support.