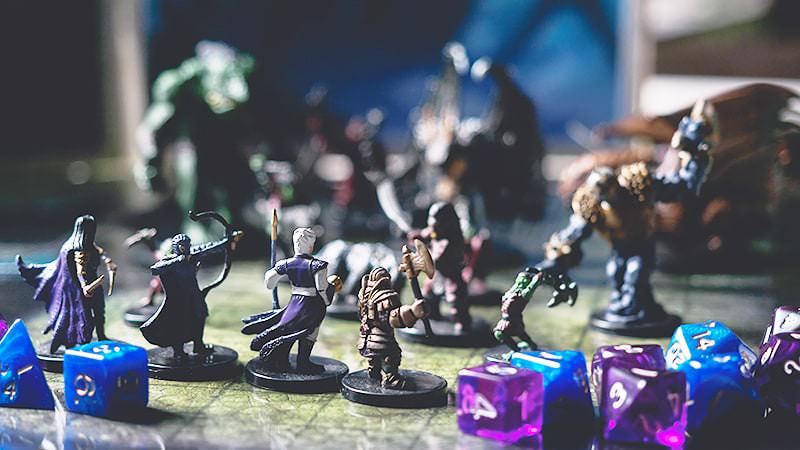 In 2019, the most funded film/video project on Kickstarter isn't based on a TV show, movie or comic book.
That achievement goes to Critical Role: The Legend of Vox Machina, an animated series based on a weekly live-streamed Dungeons & Dragons campaign. Raising US$11.3 million over 45 days, the project is also one of the top 5 most funded projects in Kickstarter history.
It's just the latest sign that Dungeons & Dragons (D&D for short) is now bigger and more popular than ever before.
Over the past few years, TV shows like Netflix's 'Stranger Things' and NBC's comedy series 'Community' have featured the game. Celebrities like Vin Diesel, Dwayne Johnson, Stephen Colbert, Joe Manganiello, Anderson Cooper – even Judi Dench – have also "come out" as D&D nerds.
According to Wizards of the Coast, the company that owns D&D, sales of D&D merchandise have boomed: growing by double digits since 2014, with new player handbooks and starter sets a large portion of the growth.
Even casual onlookers who know nothing about how the game works are noticing its increased popularity.
What is Dungeons & Dragons?
Originally published in 1974, D&D is a fantasy tabletop role-playing game (RPG). In many ways, it's the pencil-and-paper basis of modern day computer RPGs where players take on the role of fantasy characters, exploring worlds of sword and sorcery, slaying monsters and looting treasure.
At its core, D&D is a group social activity, one that is part collaborative storytelling and part tactical war game.
Games take place around a table, like a board game, with each D&D player running a character they'd built. Like an actor, they make decisions on how their character would react or what actions they'd take based on that character's personality and strengths or weaknesses.
Each game also features a Dungeon Master whose role is to build and manage the fantasy world around these characters, playing both friend and foe and ultimately progressing the story.
The experience is decidedly analogue and personal: D&D started and is still played by many in-person with written notes and physical character tokens. Even D&D games that are played online have players using group live video live chat to talk and collaborate face to face.
It may seem a little ironic how the internet and modern web apps have played a major role in the resurgence of this 45-year old hobby.
The online road to offline entertainment
I first got into D&D about 10 years ago by listening to Acquisitions Incorporated, a podcast by geeky web comic series Penny Arcade that featured the live D&D play sessions of the Penny Arcade crew.
Full of ad-lib humour and quirky larger-than-life characters, Acquisitions Incorporated gave hundreds of thousands of viewers, myself included, a taste of what playing D&D was like.
It seemed fun! And more importantly it seemed accessible: one didn't have to read a 300 page rulebook in order to enjoy the podcast or to be entertained listening to the game.
These sorts of D&D "live play" or "actual play" podcasts, including the immensely popular The Adventure Zone, have helped grow interest in D&D over the years.
According to Dungeons & Dragons senior director Nathan Steward, "over half of the new people who started playing 5th edition [the current version of D&D] got into D&D through watching people play online".
In more recent years, video-streamed live play web series such as the aforementioned Critical Role have further propelled the renewed interest in D&D. Using live streaming video platform Twitch, the show, whose players are professional voice actors and self-professed nerds, broadcasts game sessions live every week and also puts up past episodes up YouTube.
For those who simply can't find a group of offline friends to play D&D, web services like Roll20 and Fantasy Grounds have been developed specially to host D&D sessions, providing all the features of a web conference call with a collaborative D&D interface: a virtual tabletop if you will.
Besides allowing those who are interested to find groups and try out the game online, these online D&D services can cost new players literally nothing to play, assuming they already have a computer with an internet connection. Sure a web cam would be ideal but if you don't have one it isn't 100% necessary.
And for those of you who need a just little extra help in finding a D&D group, the internet makes it a lot easier to find people with similar interests. You could start with good ol' Facebook and search for Dungeons & Dragons groups. Or Reddit, with its LFG subreddit, a popular platform for recruiting D&D players. There's also Meetup if you prefer to play offline and want to find D&D players nearby.
Rather than isolate us, there's much to be said about how the internet and modern web apps bring people together, even if it just for a fantasy tabletop game with elves, gnomes and wizards.