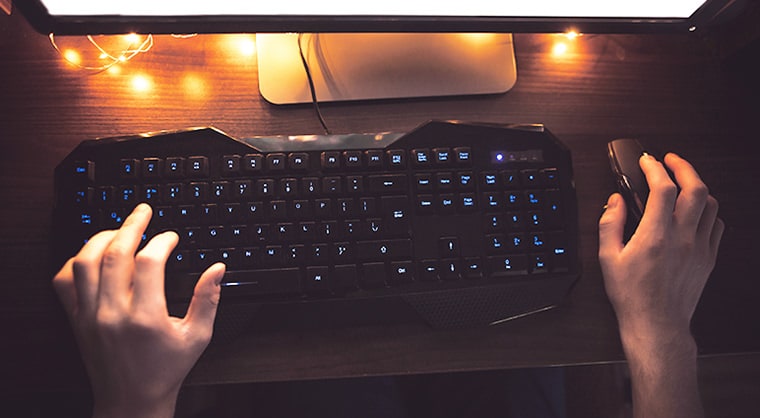 Not all of us have the luxury of setting up a whole gaming room, some of us just want to get most bang out of our buck and own a decent gaming setup.
The good news is that you can still have a solid PC gaming experience on a tight budget. Let's break it down to the essentials. Here are a few PC gaming accessories that you definitely will need.
The Mouse
With no risk of disconnecting due to low power and a little bit faster in terms of connectivity, wired mice are generally preferred for gaming – which is great considering that wired mice tend to be more affordable than their wireless counterparts. But this doesn't mean you should use the cheapest office mouse you can find.
Considering the large number of hours you'll spend using your mouse – and the number of clicks you'll subject it to — it's vital that you find one that is comfortable and fits your hand in terms of its shape and size.
A quick search on sites such as Lazada or Amazon will net you lots of gaming mice under $20 or even under $10. Even reputable brands like Logitech and HP offer gaming mice below $30.
If you're on a tight budget, rest assured that you don't need a mouse with very high CPI — that's Counts Per Inch, more commonly but inaccurately known as DPI or Dots per Inch.
Many gaming mice feature high CPIs as one of their selling points, with numbers at 16,000 or more. The reality is that most gamers use CPI settings below 3,000. Even Overwatch pros hardly go over 2,000 DPI, with only a few using 3,200 DPI.
The Keyboard
Many hardcore gamers recommend using a mechanical keyboard as one of your PC gaming accessories. I too shamelessly recommend using one: your keyboard (alongside your mouse) is a PC gaming essential and you deserve a better experience for the years you'll be hammering on it.
With spring-loaded switches for each individual key, mechanical keyboards provide tactile feedback as you type. In other words, you get a better idea for when you've pressed the key, enabling you to type faster and more accurately.
And while mechanical keyboards may cost a bit more upfront, mechanical switches last much longer: mechanical keyboards generally last 50 million clicks (or more) per key, retaining their feel after years. Membrane keyboards tend to top out around 10 million, with the keys become less responsive.
Not to mention that with membrane keys, your key presses pass through a rubber layer, which after prolonged use, can harden over time. This makes the keys feel more "mushy" and require more force to activate, with keys sometimes getting stuck.
If you're concerned about the noise that a mechanical keyboard generates, you'd be glad to know some mechanical switches are much quieter than others, such as the Cherry MX Brown switch.
The Monitor
If you're on a tight budget, your monitor is probably going to be the next most expensive item of your PC gaming accessories other than the computer itself. To get the best value and enjoyment out of your monitor, you're going to need to balance a bunch of factors, many of them coming down to your personal preference or how much space you have for gaming Let's talk about them individually:
Screen Size and Resolution
That said, make sure to consider both your screen size *and* your screen resolution. They are not directly related.
For example, you can get a 24" monitor or 30" gaming monitor at 1920×1080 resolution. The same image will look bigger on the 30" screen but it will also look blurrier as the pixel density is lower i.e. the pixels displayed are more spread out over a larger area.
Likewise screens of the same size can have different resolutions. For example, you can have a 27" screen with 1920×1080 resolution or 3840×2160 resolution — the latter offer double the resolution and sharper graphics as a result.
A higher resolution or bigger screen costs more obviously, so finding the right balance comes to your own preference. Would you invest more in resolution over screen size or vice versa?
Refresh Rate
Most "gaming monitors" these days like to boast about their higher refresh rates like 144Hz or 240Hz. Your monitor's refresh rate is basically how many times it updates its images per second, so a screen with a 60Hz refresh rate updates 60 times per second.
As a general rule, the higher number of Hz (that's Hertz), the more images per second and a more "fluid" experience on your screen. The quality of the image won't improve — that's to do with your screen resolution — but the motion of the graphics should look smoother.
Non-branded gaming monitors, like the one you use in the office, generally refresh at 60Hz.
If you're a gamer on a budget do you need a monitor that refreshes more often? Once again it really boils down to your personal reference. You might be someone who can't really tell the difference or play games that don't demand such a level of performance.
Here's a video that offers a breakdown of how 60Hz, 144Hz and 240Hz refresh rates make a difference:
If you prefer crisp graphics over super smooth ones, you'd probably invest in a high resolution and/or bigger monitor. If you're a more competitive gamer who someone plays a lot of FPS or strategy games, you might go with a smaller monitor but one with a refresh rate of 144Hz or more as even a small visual difference could affect your performance.
The Balancing Act
For your given budget, consider how much you value screen size versus screen resolution versus refresh rate.
Let's say you have a budget of less than $300 for your gaming monitor. You can still get a 144Hz screen but you likely won't get a resolution more than 1920×1080 or a screen larger than 25".
If you want a bigger monitor say at 27" at that same budget, you could get one but then your resolution won't be higher than 1920×1080 and you won't be able to get much higher refresh rate.
At the end of the day, your gaming setup and PC gaming accessories should reflect your needs and priorities and that means deciding on what matters most to you.