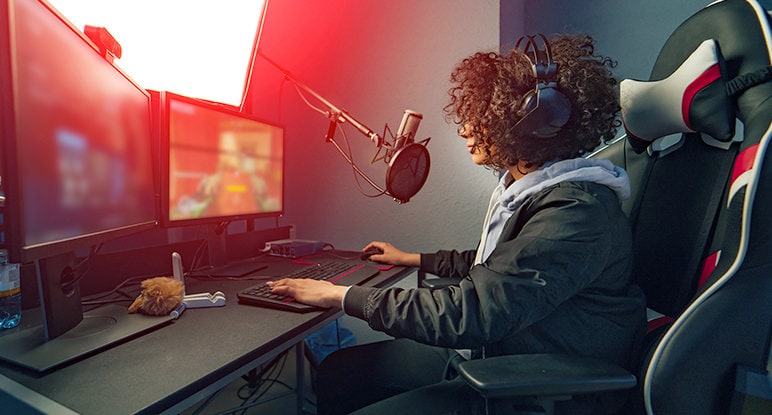 Now that we're able to live stream at the click of a button and make use of open source broadcasting and capturing tools, becoming a video game streamer is more affordable and easier than ever before.
And with news articles reporting how successful game streamers pull in 5 or 6 figures per month, who hasn't flirted with the idea of starting their own Twitch channel?
Looking at the pros you may think that a good streaming setup needs an expensive rig with a branded microphone, a professional lighting kit and more. While it can help to invest in reliable equipment, you don't need to invest a lot of money to get started — and expensive equipment definitely won't guarantee your stream's success.
A basic setup is enough for most streamers just starting out, and today we'll be outlining how you can put one together without breaking the bank.
Streaming software ($0)

For starters, you'll need a program that can take your real-time device capture and broadcast it to your platform of choice (such as Twitch). For the budget-conscious, good news: there are a couple of great options you can get for absolutely free.
Open Broadcaster Software (OBS) is open-source and available for Windows, Linux, and macOS. Many streamers–even the pros–swear by it for its flexibility, customisability, and range of plugins and features.
If you're looking for something less overwhelming, try Streamlabs OBS (SLOBS). It's a more attractive variant of OBS that emphasizes ease-of-use, a cleaner UI, and special streaming features (built-in chat, pre-designed themes, facemasks, and more). Compared to OBS, SLOBS should be easier for newbies to set up, but lacks the level of customisation OBS has.
A green screen ($4-80)

Depending on your room and setup, you may need a green screen. The magic of chroma keying is a simple way to ensure viewers won't get distracted by clutter and piles of stuff behind you while you're on camera.
Cleaning up your room is free, of course, but sometimes that's just not possible. Fortunately for your wallet, a large piece of garish green cloth attached to curtain rods with handy-dandy $1 binder clips works pretty well as a green screen. It's not pretty but it does the job!
And if you've got a bit more money to spend? This streaming stand and a green backdrop on Lazada would cost you about $25.
Microphone ($25-$300)

You won't be able to subject your viewers to your terrible jokes if your voice is muffled or buried by background noise.
If your finances are tight, you could get by with the Zalman ZM Mic 1 (or any other lapel pin mic for less than $20). It's not great, but it's probably better than your computer or camera's in-built microphone.
Some gamers like to use headsets with built-in mics: the HyperX Cloud line of gaming headsets, which are highly recommended for their comfort and quality, range in price from $79 to $239 on their website. If you're looking to invest in a gaming headset anyway, why not ensure it has a good microphone?
While headset microphones don't deliver the best audio quality, they're still enough for you to interact with viewers on stream without the hassle of a mic stand and pop filter, making them a great option if you're just starting out.
Another mid-level option is a USB mic like the much-lauded Blue Yeti, which simply requires an open USB slot to plug into. Most of these mics have their own small stands so that you can place them on your desk.
That being said, nothing beats a good old-fashioned XLR microphone when it comes to audio quality if you have the budget. To use an XLR, you'll also need an audio interface, mic stand, mixer (although this is kind of optional), and cables. We'll go into more detail about this later.
There are a ton of choices when it comes to XLR mics: you could get a Focusrite studio recording bundle for $370, or pair either the Shure SM58 ($145) or Behringer XM8500 Dynamic Mic ($38) with a Behringer UMC202HD ($155). A single XLR cable costs anywhere from $5 to $50.
As for the stand: a basic desk stand costs about $10 online, and an adjustable boom stand is just a little bit pricier. Some boom stands come as a bundle with an XLR cable, and other sets even include the mic as well.
Interfaces and mixers ($0 – $$$)

Audio interfaces and mixers are tools that help equalise and clarify your sound. They can also help add special effects like reverb and echo. A mixer-interface combo lets you combine multiple audio sources such as instruments, audio clips, in-game sound, background music, your voice and any other additional inputs, resulting in a cohesive stream with clear audio.
The Behringer UMC202HD we mentioned is a reliable option. For a 2-in-1 hybrid option you won't find anything better than the incredibly expensive Zoom LiveTrack L-12.
If you want a proper mic but can't afford the rest of the hardware, you can grab an XLR to USB cable and download Voicemeeter Banana, a free virtual audio mixer.
Other audio peripherals

If you want to get more serious with your audio setup, you could get a pop filter, which controls environmental noise and reduces harsh "plosive" sounds ("p" and "s").
You can get ridiculously cheap filters from Amazon or Lazada for less than $5. If you have a USB microphone, a foam cover may be the better choice. These are inexpensive as well: you can get 10 of them for less than $5.
Webcam ($0-$150)

A good camera is crucial if you want your viewers to be captivated by your charming looks or hilarious expressions. While 720p is the recommended minimum resolution, there are thousands of options on the market–from potato quality to 4K heaven.
If you've got one of those new mobile phones that come with a powerful camera, there are apps (like IP Webcam for Android or EpocCam for iOS) that can turn it–temporarily–into a streaming camera. Most current smartphone cameras are better than the cheap, grainy budget webcams you'll find on eBay.
One of the most popular streaming cameras is the Logitech C920, available from Amazon for around $88 plus shipping. It's affordable, reliable, and supports HD, which means you probably won't have to upgrade it for a long time. Many streamers find that saving for a few months to get the C920 is much, much more pleasant than using a lower-priced 720p camera. As one Redditor puts it, "the difference is like night and day".
Lighting ($30-100)

Streaming in a very dark room might work if you're playing Five Nights at Freddy's and want to add an extra layer of terror, but for most streams, your viewers want to see what you're doing on camera.
Even a window that offers natural light isn't an ideal solution as its colour, intensity and temperature can change very quickly with the weather. If you want your stream to look consistent, you'll need a consistently bright light source.
A proper set of studio lights starts from around $100 online. Having multiple light sources (at least 2) is key to avoiding casting shadows and such sets usually come with soft boxes to diffuse the light, making it softer and more flattering for your skin.
Can't afford studio lights? You can use a tablet as a light or make your own softbox out of a cereal box. You can even use your existing desk lamps if they're bright enough — just tape some paper in front of them to help diffuse the light.
LED panels and ring lights (often used by beauty listgers) are yet another alternative; the soft light produced by these sources flatter your face, and many of them feature adjustable intensities.
As you can see, with a bit of creativity and some extra effort, you don't need to invest hundreds of dollars in order to start streaming. That said, there are certainly places you may want to save up and invest in (especially in camera audio equipment) if you want to take your streaming seriously.
If you're just starting out, don't worry about having everything perfect, it's part of the journey to improve your equipment alongside your gaming and streaming skills.