Home Cabling and Trunking Service
Why Should I Get Cabling with My Home Broadband?
You would probably find cabling services useful if you:
Purchased our MyRepublic Dual Fibre Broadband and needs help running a cable to your second 1Gbps-powered router, positioned at another end of your home
Live in a multistorey house and suffer from poor internet connectivity using Wi-Fi on the upper floors
Expect the full speed of your 1Gbps connection throughout your home, regardless of your house size
How Much Will Cabling Cost?
It will first depend on whether the job requires Standard or Custom Cabling services.
The work scope of Standard Cabling services involve only:
A maximum work height of 3.3 meters or lower
1 line from point-to-point
A maximum of 2 faceplates
Drilling a maximum of 1 hole
Standard Cabling will be charged at:
$151.80 for the first 25m of cabling
$19.40 for each additional 5m of cabling
If Custom Cabling is needed, the cost and complexity of the job will be determined when our technician visits your place for the free site survey. An official cost quote will then be sent to you, after which you can choose whether to proceed with the Custom cabling work.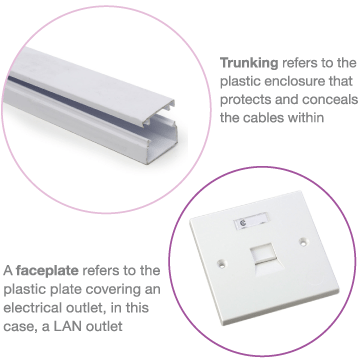 How Do I Sign Up and What's the Installation Process?
If you're a new customer, you can select cabling services as part of your order under 'Add-Ons'. When selected, a free site survey will be conducted on the same day as your broadband service installation.
Site survey fee of $50 will be chargeable for existing customers who did not sign-up for this service previously at point of sign-up.
During the site survey, you can inform the visiting technician what your requirements are. The technician will evaluate your house layout and determinate whether Standard or Custom Cabling services will be required.
After the site survey, our technicians will follow up with you within 2 to 3 business days to set up a cabling installation appointment.
If Custom Cabling is required, a cost quotation will be sent to you based on your requirements. If you are agreeable to the cost, the appointment to perform the cabling will be arranged.