Wi-Fi routers work best when placed in the open. That's why we designed the MyRepublic Wi-Fi Hub router to not only provide fast speeds for all your devices, but to fit your home environment.
The Fastest 802.11ac Wi-Fi Standard
Featuring the latest 802.11ac technology and triple spatial streams (3x3), the MyRepublic Wi-Fi Hub offers data rates up to three times faster* than the previous 802.11n Wi-Fi standard.
Simultaneous Dual-Band Support
The MyRepublic Wi-Fi Hub transmits on both 2.4GHz and 5GHz bands at the same time, allowing your devices to connect on the one that allows the fastest possible performance.
Plug and Play Simplicity
Set up your wireless network in just a few minutes with the Wi-Fi Hub. Plug the router in and the Setup Wizard will do the rest.
*Based on theoretical peak speeds. Actual speeds will likely be lower.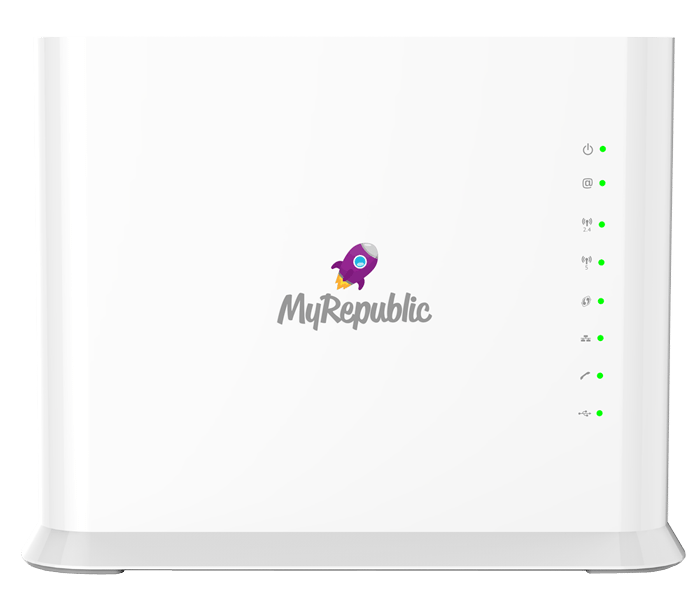 A Faster Online Experience for All
Get a router that best fits your needs when you sign up with MyRepublic.
Router
MyRepublic Wi-Fi Hub
ASUS RT-AC88U
Cost
(varies with promotion)
$0 – $179
$29 – $359
Expected Wireless Speed* over
2.4 GHz band
20 Mbps – 80 Mbps
25 Mbps – 80 Mbps
Expected Wireless Speed* over
5.0 GHz band
60 Mbps – 220 Mbps
80 Mbps –  320 Mbps
*Actual performance will depend greatly on factors that specific to your house and devices in use, including distance from the router, the mix of wireless products and operating systems used, wireless interference, building materials and construction and other conditions. These provided values are estimates assuming no obstruction and maximum 5m distance. For best performance out of your broadband plan, we recommend a direct LAN cable connection.