Esports isn't just for the elite. After all, we've got to start from somewhere. Before the flashy stadiums and screaming crowds and million-dollar prizes are the LAN parties and neighbourhood LAN cafe tournaments. That's where anyone can make their mark and test their potential.
The MyRepublic GAMER Arena is for anyone who wants to elevate their game and test their skill against other aspiring esports players. There are no barriers to entry here – you just need the will to compete and a love of gaming.

Upcoming MyRepublic GAMER Event
We're back with Season 2 of MyRepublic GAMER Arena! Stand to win up to $10,000 worth of cash and prizes when you sign up for our League of Legends, FIFA 19 and Apex Legends online tournaments.

Want in on the Arena action?
Join our mailing list to stay updated on GAMER Arena developments or drop us an email if you've got feedback or ideas to share! What games do you think should be included in the GAMER Arena?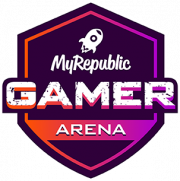 KEEP IN TOUCH!
Sign up for our GAMER Arena mailing list and be the first to know about upcoming GAMER Arena events and competition details.