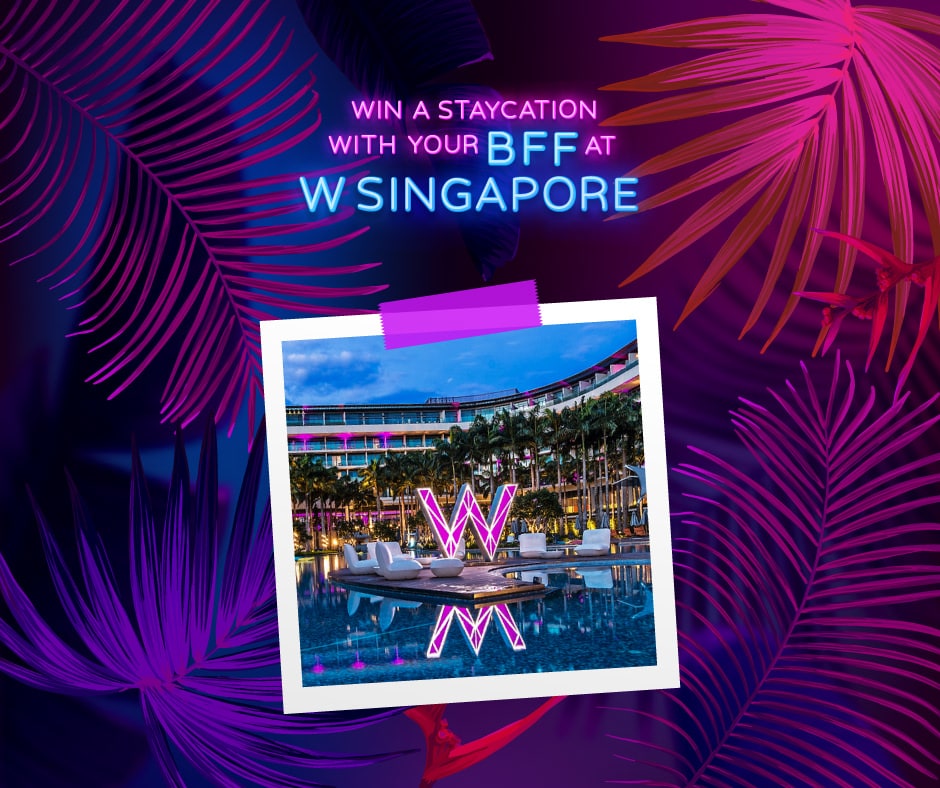 Celebrate your friendship
Friends with Benefits Insta Stories Contest
Contest Period: 2 – 15 August 2019
Prize: One (1) complimentary 1-night stay in a Wonderful King Room, with breakfast for two (2) at W Singapore – Sentosa Cove (worth $300). This prize expires 31 October 2019.
How to Participate
Create an Insta Story of you and your best friend
Use MyRepublic Stickers
Tag @myrepublicsg and #FWBMR in your submission
Set your profile to public
Add your stories to highlights
Contest Terms and Conditions ("Terms")
By participating in this interactive Friends with Benefits Insta Stories Giveaway, (the "Contest"), you, the participant, agree and understand that you will be bound by these Terms set by MyRepublic Limited ("MyRepublic", "we", "us", "our") and by any decisions made by us.
 Eligibility for participation in the Contest:


(a)

   

You must be at least 18 years of age or older at the time of entry;

(b)   

You must be a Singapore citizen, permanent resident or have a dependent, diplomatic, student or employment pass with at least six(6) months' validity period;

(c)   

You must not be a MyRepublic employee(or members of their immediate families), a member of MyRepublic Partnership Program, our sponsors, vendors, contractors, and agents; and

(d)   You must use your own Instagram account to participate in this Contest, otherwise, your entry will be automatically disqualified.

 By submitting an entry, you:


(a)   

confirm the information submitted by you to us must be true, accurate and complete to your best belief and knowledge. Incomplete or illegible entries will be disqualified;

(b)   

represent and warrant that all materials, documents, and forms submitted by you in connection with the Contest is an original work and does not (i) not infringe on the copyright or other intellectual property of any party; and (ii) does not violate any law ("Submission Material");

(c)   

agree our use of your Submission Material for publicity and/or use in advertisements across all media, in its original or edited format, shall be without further compensation, except where prohibited by applicable law;

(d)   

do not own any intellectual property rights in the Submission Materials and accordingly agrees to unconditionally waive all such rights;

(e)   

agree and consent to the collection, use and disclosure your personal information (including your name, email address, voice or photo or videos taken during events related or in connection with the Contest) by MyRepublic for editorial, advertising, marketing and promotional purposes in accordance with  MyRepublic's Privacy Policy (available on

https://myrepublic.net/sg/legal/terms-of-use-policies/privacy-policy/

), without further compensation, except where prohibited by applicable law; and

(f)   agree that you have obtained a release from any person featured in the Contest Material irrevocably agreeing our use or your use of the image(s) and/or video(s), without compensation, in perpetuity, in any country of the world, in any manner and in any media or format now know or later devised, for any purpose whatsoever. We reserve the right to disqualify any entry, and/or forfeit, withhold, withdraw or reclaim any prizes, where such release is requested by us and not provided.

 

We reserve the right to disqualify any submissions using profanity, racial slurs, foul language or comments that may be deemed as an attack on MyRepublic or the Contest You must not post any messages that are obscene, vulgar, sexually-oriented, hateful, threatening, or otherwise in violation of any laws.

 We are not responsible for any loss of submissions due to any problems, delays, interruptions or overloads caused by telephone lines or systems or internet service providers.

 

We reserve the right to make changes to the Terms, Contest or prize at any time without further notice to you.

 

You are allowed to submit multiple entries but only win one prize will be awarded in the Contest.

 

The winner will be notified on 19th August 2019 through a Direct Message on Instagram, based on his/her submitted contact details after the Contest is over and the winners have been determined. Our decision and records at all stages of the Contest are final, conclusive and binding and no inquiries or appeals shall be entertained. We reserve the right to reject or disqualify any submission without prior notice for any reason, including to but not limited to submissions not entered in accordance with these Terms.

Our sole responsibility to a winner of the Contest is to arrange for the winner's collection of the prize. The winner acknowledges and agrees that (a) risk and title in and to the prize vests in the winner upon his or her collection of the prize; and (b) the prize is not exchangeable or transferable for cash, credit or in-kind. Prizes will be forfeited if it is not collected by the winner by notified time period. We will not refund or exchange for any partially used prize. We will not entertain any requests for extensions if the winner does not use the prize by the Expiry Date.

Acceptance of any prize shall release and discharge us  from any and all liability, claims, demands, causes of action, and/or damages which the winner  may have, whether known or unknown at the present time, of any nature whatsoever, arising out of or relating to (a) the Contest, (b) personal injury and/or property damage, theft or loss suffered by the winner as a result of the use and/or enjoyment of the prize, and/or (c) any tax liabilities in relation to the Contest, prize and/or use or enjoyment of the same.

We do not make any representation, warranty or guarantee, expressed or implied, in fact or law, relative to any prize, including but not limited to its quality, mechanical condition, fitness for any purpose or non-infringement.

You agree and acknowledge that nothing in these Terms gives you the right to use, reproduce, adapt or exploit any of MyRepublic's trademarks, copyright, patent, proprietary information, and all other intellectual property rights owned or licensed to MyRepublic, whether registered or not, or use any trademark which resembled MyRepublic's trademarks so as to likely to cause confusion or deception.

Non-compliance with or breach of any of these Terms applicable to the Contest or dishonesty, fraud or any other illegal activities shall immediately disqualify you from further participation at any stage of the Contest, and any prize won shall be forfeited, withheld or withdrawn.

We are not liable for any expenses, losses, damages, costs or liabilities (collectively "Losses") suffered or incurred (directly or indirectly) by you from your participating in the Contest, howsoever caused or arising, even if MyRepublic is advised of such losses.

You shall indemnify and keep MyRepublic and its affiliated or related companies indemnified against any and all loss, damage, claims, and costs suffered and/or incurred as a result of your breach or non-compliance with these Terms.

Failure by MyRepublic to enforce any of its rights at any stage does not constitute a waiver of those rights.

These Terms shall be governed by and construed in accordance with the laws of Singapore and each participant agrees to submit to the exclusive jurisdiction of the courts of Singapore.

Any queries regarding the Contest should specify the name of the Contest and be addressed to [email protected]